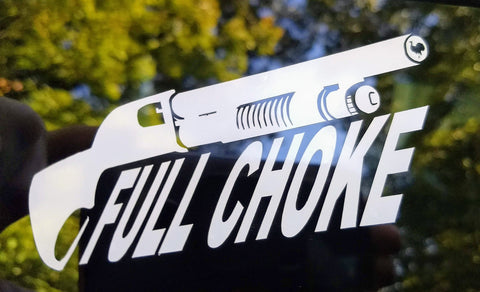 Full Choke Turkey Hunting Vinyl Decal
FULL CHOKE Turkey Hunting Vinyl Decal
Cut from white, durable outdoor vinyl, our Full Choke Turkey Hunting decal will show you love the challenge of spring or fall turkey season.
Measures approximately 5" wide x 2.5" tall. 
Free shipping!
Application:  To apply, just peel off the blue backing, position the decal where you would like it, then use the clear backing to apply it to your window.  Smooth the decal out with a credit card, then slowly remove the clear backing and you should be all set!  You can remove any air bubbles with your credit card should they arise.
---
We Also Recommend